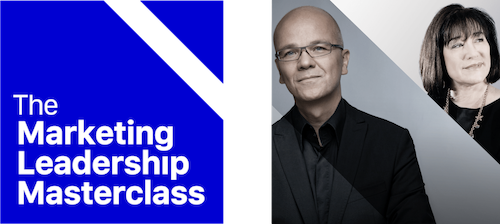 Become the influential marketer you always wanted to be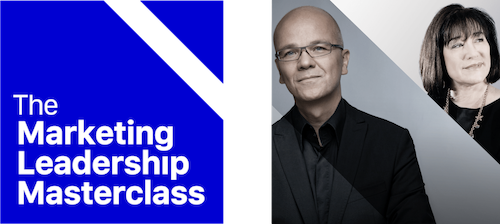 Become the influential marketer you always wanted to be
A complete marketing leadership class
Powerful techniques to mobilize the C-suite, peers, clients
From the world's largest studies on marketers' success
Realtime peer network—for 100 days and beyond
Bitesize lectures and live sessions
Completely flexible—perfect for busy people
Certificate of Growth, but no exam
... for less than the cost of a conference ticket
Hear the success stories >
A perspective by Syl Saller CBE
Collaboration at the heart
From day one, you'll join a powerful network of peers. You'll get 100 days of access to our unique Marketing Leadership Masterclass platform, where you can ask questions, give advice, and even form groups. Together, find new ways to build more influence, resilience, and business success. Learn how to lead marketing in turbulent times!
A complete marketing leadership class
Split into 12 modules, the powerful 
Marketing Leadership Masterclass 
curriculum combines the world's largest studies on marketers' success with effective organizational change-strategies taught by McKinsey and top global business schools. At the core: practical ideas that are proven to transform your leadership.
Perfect for people with a busy schedule
Take your Marketing Leadership Masterclass lectures on demand. All 12 modules are divided into bite-size lectures with videos, questions, and readings. Find fresh content each week. We'll pace you via email and even SMS (optional). In only 12 weeks, learn how to lead bosses, peers, teams, and yourself.
Hear the success stories.
coaching by true industry leaders
Get advice, share challenges, probe ideas—together with industry leaders during our inspirational live sessions
Hear the success stories >
COLLABORATION AT THE HEART
The Marketing Leadership Masterclass: E

xperience on one of the world's most advanced learning platforms:
Find new 

Marketing Leadership Masterclass 

lectures every few days with fresh content and ideas
Interact with your peers, ask questions, and exchange advice 24/7
Watch engaging lectures with bite-size videos, exercises, and readings
Learn from powerful ideas by world-leading CMO Syl Saller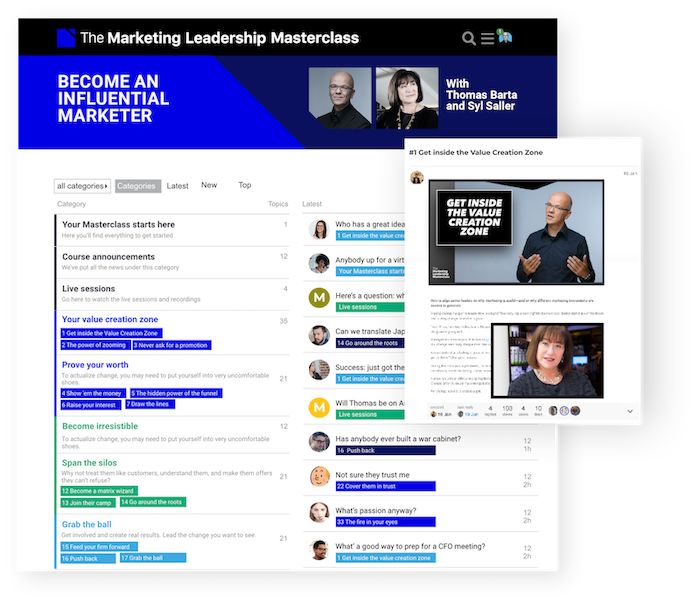 MASTER MARKETING LEADERSHIP
LEAD
UPWARDS
Get senior leaders to support your activities, even if you can't always prove the outcome
LEAD
YOURSELF
Stand up, lead, and
inspire those around you
LEAD
SIDEWAYS
Convince colleagues, peers, and clients who don't report to you—but who are essential for your success
LEAD
TEAMS
Build teams that ask for forgiveness, not just permission
A POWERFUL CURRICULUM FOR CHANGE LEADERS
Your Value Creation Zone
Stakeholder needs

The V-Zone

Big-picture view

Getting promoted
Deliver Returns

Measurement

Funnels

Budget strategies

Execution leaks
Become Irresistible
Change leaders

Jargon

Emotional leaders

The best partners
Align The Silos
Change in the matrix

Idiosyncrasy credits

Going around the roots

Walking the halls
Start The Movement
Windows for change

Storytelling

Bite-size issues

Movements
Grab The Ball
Pushing back

Feed forward

Role model

Going first

 
Get The Mix Right
Distinctive skills & traits

Team missions

Alignment

Team focus
Give Them Wings
Building team trust

Building confidence

Permission

Forgiveness
Let Outcomes Speak
Fair stretch targets

Counting what matters

Biting the bullet

Letting go
Know How You Inspire
The power of inspiration

Why you inspire

Fire in your eyes

What makes you tick
Do It Your Way
Become an influencer

"Binfluencers"

Authentic leaders

Effective leaders
Aim Higher
Job descriptions

Setting a vision

How to be brave

Dreaming & planning
FROM THE WORLD'S LARGEST STUDIES ON MARKETERS' SUCCESS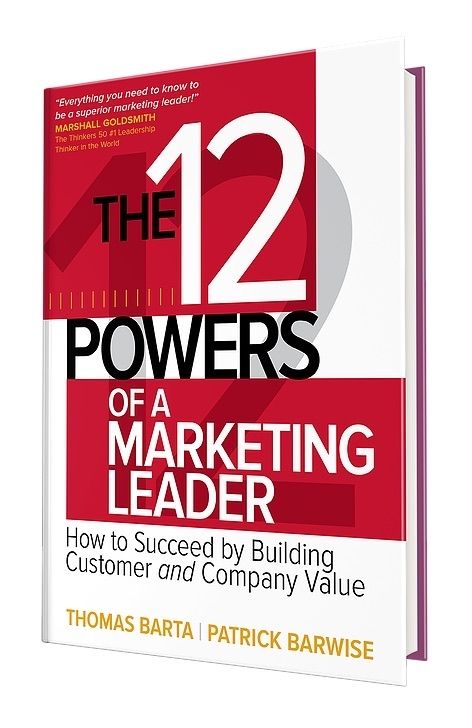 Everything you need to know to be a superior marketing leader!
#1 Leadership Thinker in the World
A must-read for every present and future CMO who cares about making a difference.
Author of All Marketers Are Liars
This might just become the bible for marketing leaders.
Founder and CEO, The Marketing Academy
The essential leadership playbook for the CMO of the future
An essential read for any marketing professional looking to take the next step in their career.
Global Managing Director, McKinsey & Company
Leading change inside organizations—for growth
Proving your work's relevance
Getting more resources
Getting colleagues on board
Building teams of leaders
Inspiring change
Making yourself indispensable
Achieving real business impact
Thomas Barta is one of the world's premier experts on marketing leadership
Thomas is a former partner of McKinsey and an organizational psychologist. Founder of the Marketing Leadership Masterclass, he conducts groundbreaking research at the intersection of marketing and leadership – including the world's largest study, with over 68,000 assessments – on what makes for an impactful marketing officer.
Thomas has developed the Marketing Leadership Masterclass since 2016. The aim? Help build the next generation of influential change leaders.
His and Patrick Barwise's book, The 12 Powers of a Marketing Leader, has set the new standard for marketing leadership. As a dean of the firm's highest-rated internal program, Thomas trained over a thousand McKinsey leaders on driving change without authority. To date, thousands of executives have attended his marketing leadership classes.
Thomas is Marketing Academy leadership dean and an Honorary Fellow of the Marketing Society.
His work appears in Forbes, Marketing Week, and on his own TryThis.Blog.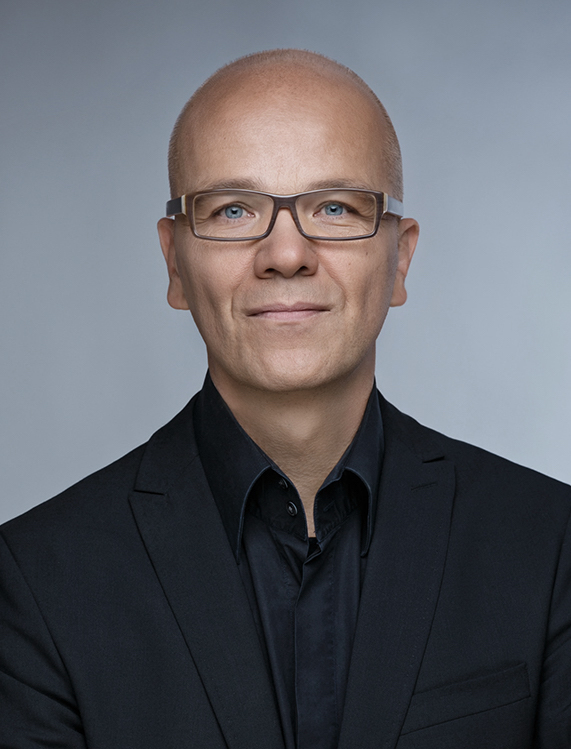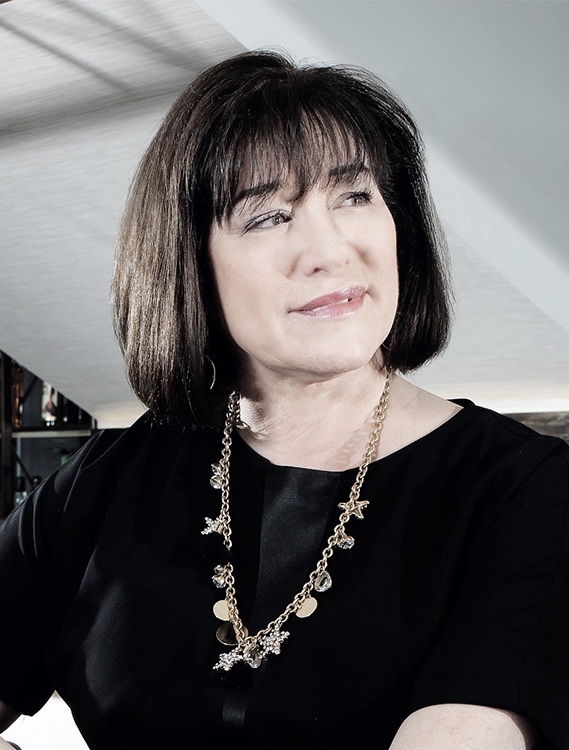 Syl Saller CBE, is among marketing's preeminent global leaders of our time
For the new Marketing Leadership Masterclass, Thomas has teamed up with world-leading CMO and Masterclass co-founder Syl Saller. In her role as Chief Marketing and Innovation officer for Diageo, owner of iconic brands like Johnnie Walker, Guinness, and Smirnoff, Syl led all global marketing, media, design, innovation, R&D, and reserve—Diageo's luxury division. Her experience ranges from luxury goods to FMCG and retail/franchisee models, and she has a deep understanding of both developed and emerging markets.
An experienced Board member, Syl is President of the Marketing Society, sits on the board of the Marketing Academy, and is an Executive Coach for their Fellowship program. She has been a Non-Executive Director of Domino's Pizza Group plc, on the executive committee of the World Federation of Advertisers, a Trustee for the Women's Prize for Fiction, and Chairman of Distill Venture's Investment Committee.
Syl has been consistently recognized for her service to industry. She was awarded Commander of the Order of the British Empire (CBE) in the Queens 2020 Honour list in recognition of her services to business and equality in the workplace. She has been Marketer of the Year and one of WFA's Top 5 Global CMO's, Debrett's 500 Most Influential People in Britain, Campaign's Top 5 Marketers, Ad Age's Women to Watch, and Forbes 50 Most Influential CMOs.
The Marketing Leadership Masterclass is for everyone who wants to make change happen. Experienced leaders will learn how to shape the top agenda, influence throughout the firm, and build powerful teams that ask for forgiveness, not for permission.
Emerging leaders will discover why projects sometimes get stuck and what the world's best influencers do to win.
Agency executives will gain the skills to influence the people who matter and become their clients' most trusted advisor by helping them achieve real impact.
Career movers will learn how to plan their next gig, get ready to ask the right questions, set the right priorities, and hit the ground running.
What's the real time commitment?
That's your choice. Participants looking to experience the full Marketing Leadership Masterclass depth devote 3-4 hours per week. If you are pressed for time, 30 minutes a week will allow you to attend all lessons and discuss with peers.
Here is a simple 1-2-3 rule. Each week, watch 1 lecture, ask 2 questions, and answer 3 questions from your peers. If you can do that – and that's easy, right? – you'll take your skills to a whole new level.
How does the discussion platform work?
The Marketing Leadership Masterclass platform lets you discuss with the other course participants, form groups, start new topics. We have moderators to help direct the discussion--as needed. Thomas and Syl will reply to your questions during the Q&A sessions.
What exactly is included in the Marketing Leadership Masterclass?
12 modules, seeded over 12 weeks, covering all aspects of marketing leadership

50+ videos, exercises to trigger your thinking, links to articles and speeches ...

... bizesize insights, perfect for busy people

100 days overall access to the platform

Weekly email updates, SMS reminders (optional)

Access to the 24/7 discussion board where you can ask questions and help others

Interactive live sessions

Becoming part of the Marketing Leadership Masterclass Alumni network
Are there tests or exams?
You'll be glad to hear: no! The Marketing Leadership Masterclass holds powerful strategies to help you tackle real life issues. You'll get to discus with peers. You can work on your personal plan. But you don't need people to check on your knowledge. Your real exam is life. That's what we are helping you build.
Upon completion you will receive your Certificate of Professional Growth. Grades will recognize much you have contributed to the class discussion.
How much does the Marketing Leadership Masterclass cost?
The standard tuition fee for the full 12-week course, all material, the live sessions, and 100 days access to the collaboration platform is  1,095 € + VAT for companies, where applicable. That's less than your average couples' weekend trip.
It's important to us that you can take the Marketing Leadership Masterclass at a time that works for you. The course fee is non-refundable. But if your plans change, we'll happily book you on the next class. Stay informed about the future classes.
Is the course worth the money?
The Marketing Leadership Masterclass differs from almost any other class you can take. At its heart is intense peer discussion. You can interact and learn with others, debate, and form groups. In this Masterclass, you'll work on real-life issues—and on your plan. If you fully embrace it, this class will be transformational for your career.
Learn more about all classes
The Marketing Leadership Masterclass is more affordable than your average couples' weekend trip. Furthermore, most companies support employees who take the class. Here's some inspiration for a letter to your boss or HR team:
Dear ____,
I'd like to take the world's leading course on marketing change leadership: the Marketing Leadership Masterclass. Would you sponsor me?
As you know, I'm working on several important projects for our firm. I've already developed my functional skills through training and your apprenticeship. But you also know, making change happen inside organizations can be tricky. That's why I'm keen to skill up.
The course I'd like to join is the Marketing Leadership Masterclass. It's taught by one of the world's foremost marketing leadership experts, Thomas Barta, and by world-leading Diageo CMO Syl Saller. The course has a rigorous curriculum and teaches the essence of leading change inside organizations.
Previous participants have said the course is "eye opening" and has "lasting impact for both professional and personal life." I can apply these change-skills directly to my work.
The tuition fee is  _______. The next class starts soon and I'd love to sign up by _________. 
I believe it's the training I - and perhaps our entire team - need right now.
Would you support me and reimburse the training fee?
Best regards,
BECOME AN INFLUENTIAL MARKETER
Accelerate your influence in 100 days